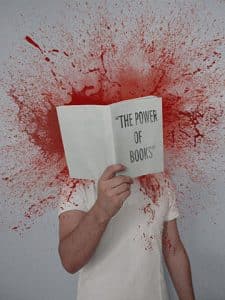 *This Page Contains Amazon Affiliate Links Refer HERE for the disclosure statement.
I wrote one article so far on books; it is titled the 5 essential books every man should read, click here to read it!
5 Mind Blowing Books!
I am going to list here my pick for the 5 mind blowing books I have read, but before I start I have to say this: I do agree it is both necessary and useful to read, yet I do think that the mainstream media made reading books into something way bigger than it is and that kind of hit on my nerve.
I do read a lot.
But that doesn't make me more sophisticated – or whatever fancy word you might think of that is usually associated with reading – than anyone else.
And no, a good book is not better than a good movie.
A good movie is a good movie, and a good book is a good book.
You can be a respectable, productive and creative human being without reading a single book. Ironically, too much reading might fuck with your creativity – more on that in a later article.
People who make reading books into that huge deal are people who sell books, and they do it to sell more books.
So it is a terrible way to start an article about books with this kind of introduction, especially when you are somehow selling books in it 🙂
I had to get that out of the way before starting this article for some reason.
Anyway,
Here are the 5 books that blew my mind when I read them.
7 Comments